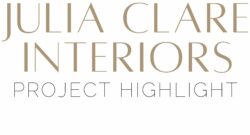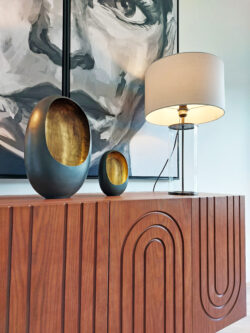 Nestled amidst the picturesque, Victorian neighbourhoods of Glasgow, Julia Clare Interiors stands as a beacon of creativity and sophistication. Led by the talented Julia Sagias, this interior design studio is dedicated to crafting distinctive residential spaces that boast an artistic and atmospheric flair. With a commitment to translating individual style and personality into every facet of their designs, Julia Clare Interiors thrives on the interplay of colour, light, spatial arrangement, and the careful selection of art and furnishings.
In this project highlight, we embark on a journey through the enchanting interiors brought to life by Julia and her team. Renowned for their ability to infuse spaces with a sense of luxury and elegance, we collaborated seamlessly to curate a selection of meticulously refined furniture, lighting, and accessories to create visually stunning compositions that radiate opulence and charm, creating an ambience that is nothing short of captivating.
Join us as we take a closer look at the Summery Suburban Oasis project by Julia Clare Interiors. Through this exploration, we will uncover the artistry and meticulous attention to detail that characterises all of the studio's endeavour's.
Designer Profile: Julia Clare Interiors excels in crafting stunning and tranquil environments. Julia's educational background includes a degree in History of Art from The University of Glasgow and a Masters in Interior Design from the Glasgow School of Art, where she achieved distinctions in both programs. Her innate talent for infusing spaces with a vibrant and innovative flair results in interiors that are eclectic, imaginative, and consistently anchored in a central design or artistic concept.
Project location: The project is situated in the vibrant and culturally rich Glasgow Southside. This dynamic area is known for its diverse community and unique blend of historical charm and modern amenities. Just a stone's throw away from the bustling streets of the city center, Glasgow Southside offers a distinct and welcoming atmosphere for residents and visitors alike.
Project brief: This project was to re-design a brand new five bedroom family home based in a luxury new residential development, with a clean, minimalist look inspired by white-on-white Miami interiors, with bespoke soft furnishings, designer furniture and statement lighting.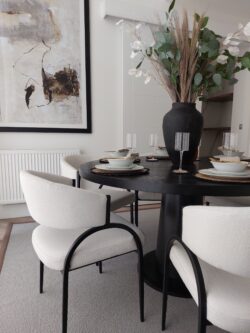 Overcoming project challenges: Julia explained that because the property was freshly constructed, the majority of the interior design was based solely on the show home, making it challenging to envision the final result. This situation also required all items to be delivered within a narrow one-week timeframe between receiving the keys and the client's arrival. Since the client was relocating and couldn't be physically present, most of the communication with them took place via Zoom and photo messages. Furthermore, completing the project within seven weeks posed a significant logistical challenge.
Design Concept and Accomplishment: The concept revolved around creating a spacious, uncluttered interior with exquisite lighting and sleek furniture. The use of a white background combined with furniture in black silhouette style, along with the incorporation of colour and texture through cushions and artwork, successfully brought this vision to life.
The outcome was truly remarkable. The suites radiate an enduring sense of elegance, effortlessly fusing contemporary conveniences with timeless aesthetics. Not only did the design revive Glasgow's cultural grandeur, but it also established fresh benchmarks for opulence and relaxation.
Inspirational Influences: The sources of inspiration encompass a blend of modern and timeless Miami Art Deco designs, a crisp and minimalistic white-on-white approach, and a consciously limited colour scheme, highlighted by accents of black, caramel, and pastels in the family room. The use of ornamentation was intentionally restrained to cultivate a serene and stylish spatial ambience. The inclusion of French Art Deco artwork on the walls introduced vibrant hues and distinctive character, while retro-shaped decor, furniture, and fabrics like bouclé, rattan, and Berber contributed to a sense of warmth and nostalgia.
Client feedback: The client's response was overwhelmingly positive, expressing genuine delight in the elegance and enduring beauty of the furniture pieces. They were particularly impressed with the exceptional craftsmanship that went into creating each item, and they appreciated the meticulous attention to detail. The use of premium materials, such as solid woods like ash and wenge, not only added to the overall aesthetic appeal but also conveyed a sense of durability and sophistication. Furthermore, the choice of stylish fabrics further elevated the pieces, enhancing both their visual appeal and tactile comfort.
Furniture decision: When deciding on furnishings, Julia Clare's Interiors begin by establishing a design concept, style, colour scheme, and mood to guide the process. They prioritise working with their specialist suppliers, ensuring quality, reliability, and style alignment. Budget considerations play a role in curating the furniture selection, ultimately integrating all these factors into the decision-making process.
Why choose Liang & Eimil: The decision to opt for Liang & Eimil furniture stemmed from their ability to craft shapes and designs that immediately evoke an unmistakable Art Deco theme, exemplified by pieces like the Melt Chandelier, Epic Armchair, and Cobra Mirror. The clean and refined aesthetic inherent in the Liang & Eimil collection perfectly aligned with the individual's vision and personal aesthetic preferences. Notably, the exceptional quality of Liang & Eimil's furniture stood out, surpassing that of other suppliers. In fact, the majority of the house now proudly features Liang & Eimil pieces. For instance, the combination of the black ash and wenge Grove Coffee table with the Manu sofa in the formal living room effortlessly evoked the ambience of a 1970s Miami beach house.

Design Tips for Interior Spaces
To create a successful space, Julia Sagias takes into account a number of vital factors:
Quality: Investing in quality, solid materials and timeless design principles is the foundation of any enduring and elegant space. In this project, the emphasis on durability and longevity has been paramount. By prioritising materials that stand the test of time, you can create an interior that transcends fleeting trends, ensuring a classic aesthetic that remains relevant for decades. This approach guarantees that your space won't suffer from the whims of passing fads, offering a timeless allure that only grows more refined with age.
Statement pieces: Introducing a select few high-quality designer pieces is a strategy that can elevate your entire space. These pieces serve as focal points, adding sophistication and prestige to your decor. They become not just elements of functionality but also statements of artistic and design excellence. When thoughtfully integrated into your interior, these designer items become the jewels of your space, enhancing its overall appeal and making a lasting impression on anyone who enters.
Scale: Additionally, the importance of scale should not be underestimated. Choosing furniture and lighting fixtures that are appropriately sized for your space is crucial for achieving a harmonious and balanced look. Larger lighting styles, for instance, can create a boutique and luxury ambience, enhancing the overall atmosphere of your room. Lastly, the window dressing should reflect the same principles of simplicity and quality. In this case, a choice of 100% linen, unlined curtains was made, lending the space an airy, beach-inspired aesthetic. This uncomplicated approach to window treatments not only complements the overall design but also allows natural light to flow freely, contributing to an inviting and relaxed atmosphere.
In conclusion, the Summery Suburban Oasis project stands as a remarkable achievement for Julia Clare Interiors and Liang & Eimil. The transformation of a brand new five bedroom family home based in a luxury new residential development, brought back the clean, minimalist look inspired by white-on-white Miami interiors. Drawing inspiration, the addition of French Art Deco art work on the walls added colour and character and retro shaped décor, furniture and fabrics such as boucle, rattan and berber created warmth, the overall design showcased a perfect blend of creativity and functionality. The successful collaboration with Liang & Eimil furniture further amplified the project's excellence.
"Invest in quality, solid materials and design that will last decades."

Liang & Eimil pieces in this project
Julia carefully selected a choice of furniture, lighting, and accessories to align with her sources of inspiration design style. Additionally, the team considered each room's practicality elements blending harmoniously with a show stopping and cohesive design.
The choice of Liang & Eimil furniture for this project was a natural fit, seamlessly blending with the client's style and budget. The collection offered a perfect combination of elegance and affordability, aligning with the overall vision of the design.
GALLERY